This story was published in National Geographic Traveller Magazine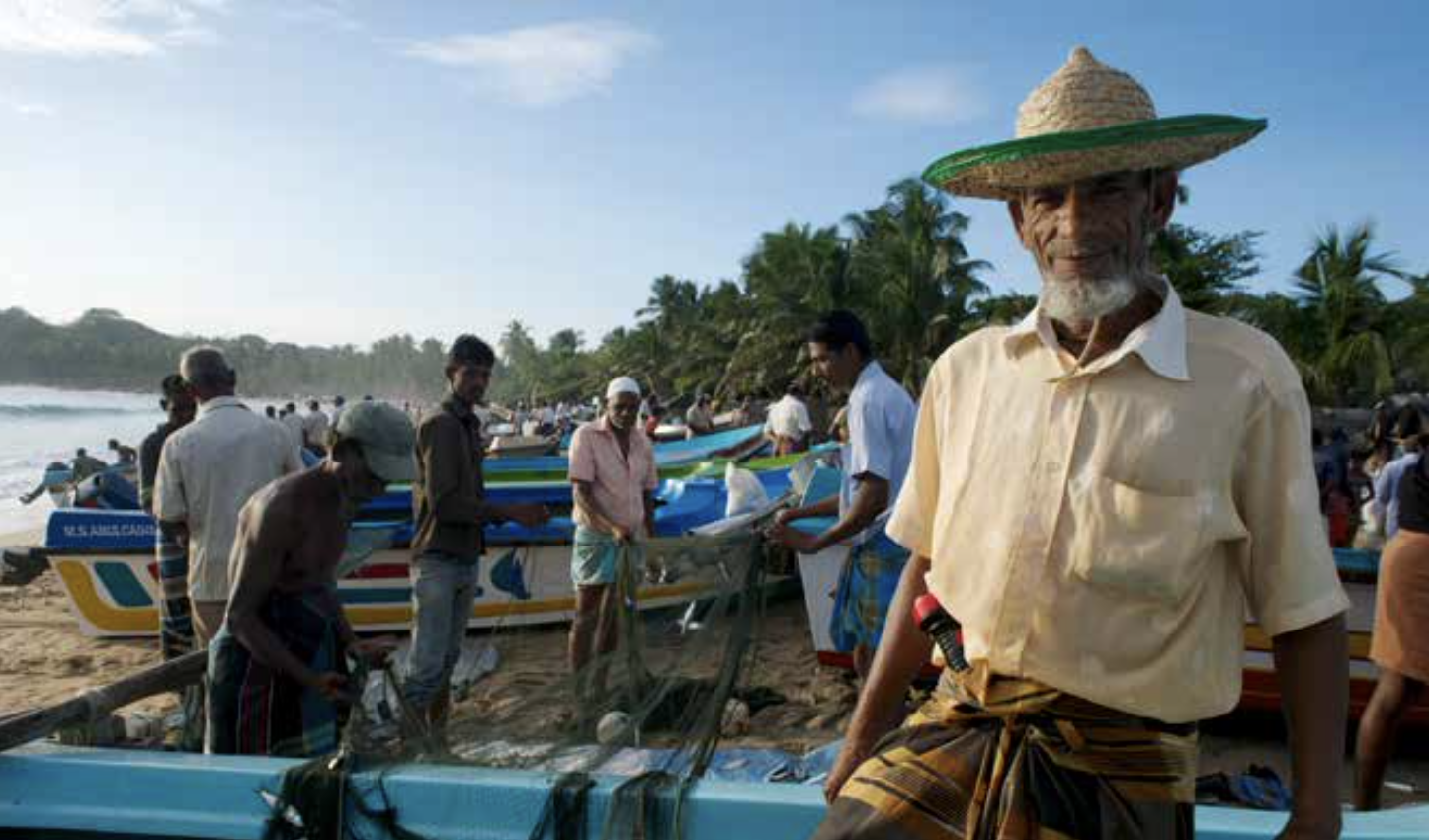 A decade after the tsunami that flattened Sri Lanka's picturesque Arugam Bay, the village has been reborn from the wreckage, writes MIRANDA LUBY
A group of bleary-eyed fishermen sit on plastic chairs on the sand sipping juice. It's not long after dawn in Arugam Bay. Their work is done for the day and as the aroma of cooking rotti replaces the scent of fish, it's a moment to contemplate the morning's catch.
Behind the men on the beach rest nearly 100 boats. Dry- hulled and strewn with untangled fishing nets, the wooden boats look as aged as the dark-skinned men — paint fading like sun-bleached sarongs. It's hard to believe they are less than a decade old. The tsunami made splinters of the old fleet.  

Beyond the boats, silhouetted surfers on famed breaks rise and fall like shadow puppets before the Indian Ocean's climbing sun. While the fishermen mumble at each other in Sinhala, Danny Indraratna, the 53-year-old who owns the shabby juice cart they are gathered around, has his eyes fixed on the waves.  "I love surfing!" he exclaims before racing over to his cart to point out a proudly displayed photo of himself riding a milky- blue right-hander.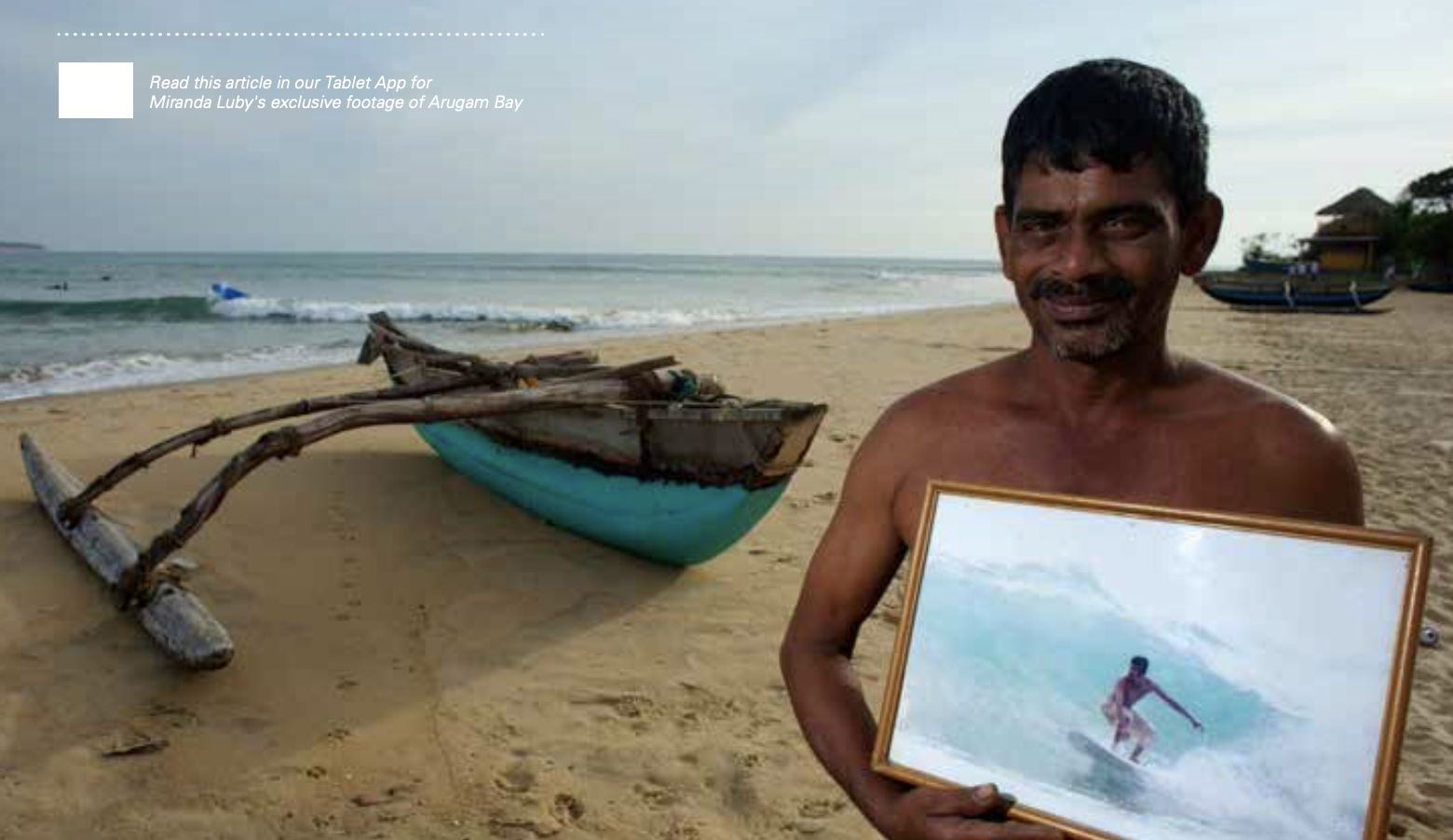 He learned as a boy, he explains in broken English, from Arugam Bay's first tourists: one Australian and one American who came here long before the east-coast fishing village became a hot-spot for surfers.  Today there are almost as many local surfers as foreigners and the dawn ocean is a harmonious blend of boards and boats, a liquid conveyer belt of early morning energy.  

"It was a big wave," Danny adds with a boyish grin, still admiring his photo. "Fast."  

But there's a sad irony in Danny's comment, and the use of his juice cart as a kind of mantelpiece. Before the tsunami, this is where his home stood. "All of this," Danny gestures across the curved bay taking in the restaurants, small hotels and swaying palms, "all of this gone. All water."  

The fishermen's eyes follow Danny's hand. In an instant their demeanours also change and a mixture of emotions filter though their faces. In a community where the local's lives are so intimately linked to the sea, for both income and pleasure, many are still coming to terms with the day it turned on them and ripped their world apart.  

This December marks ten years since the floor of the Indian Ocean gave the almighty tremble that unhinged its watery jaws and swallowed many coastlines whole.  

At the time, Arugam Bay was still a burgeoning travel destination due to its remote location in Sri Lanka's conflict- torn eastern province. The village consisted of a handful of small guesthouses and bungalows, surf shops, restaurants and many local homes.  

By mid morning on Boxing Day 2004, barely a structure would be left standing.  In one of these homes, just a short wander along the wide sweeping beachfront from Danny's juice cart, Adersinh Thomas, a restaurateur and father of five, was staring out of his kitchen window when he saw an arid landscape of black rock and gold sand appear where the ocean was a moment before.  

"The water was sucked back," he says, eyes bulging with the horror he is describing. "I couldn't see any water."  

"Many people ran down to see what had happened, and to find fish, but I felt we shouldn't go. I thought we should run." Adersinh stands, stony faced, on the site of his former home. Now half-submerged in water that was left after the tsunami, the location lends his story an eerie gravitas. 
Adersinh and his wife Dammika gathered their children, scooping up their three-year-old daughter, and began to flee up the large sandy hill behind the bay. By then, an ominous two-foot wave had re-filled the ocean floor and begun gushing through every crack and crevice of the family home.  Warning waves nipping at their heels, the family scrambled to safety alongside several of their neighbours. Hundreds of others however, including four tourists, did not heed the warning or could not flee in time. 

Today, little blue tsunami evacuation route signs provide the population an escape route. But in 2004, few even knew what a tsunami was.  Within half an hour of that first wave, a 13-metre-high liquid steamroller had rolled two kilometres inland and flattened everything around Arugam Bay. 

Many local survivors recount the days and weeks that followed in a series of vivid freeze-frames: a lone mud-covered woman crouched over a pot of boiling rice in a one-square- metre patch she had cleared in the rubble; a young woman impaled by the sharp fronds of a palm tree; great lakes of tsunami water festering in the rutted and gouged landscape; a city of tents erected by a team of tourists; fields of rice paddies thick with salt.  

But Arun Sulojun, 26, recalls the disaster with all the clarity of a rolling home movie.  

"The loudest sound was all the crying," he says. He's perched at the wooden bar of his workplace, Mambo's, a picturesque cluster of cement bungalows on the sand, close to the main surf break. He wears colourful board shorts and a t-shirt with a surfing slogan.  
It's now midday but despite the heat, the curly-haired Tamil's dark skin raises into a thousand tiny bumps as he talks.  

"After the water left I rode my bike through the rubble and dirt. The crying was coming from everywhere. The entire land was different ... I didn't know where the roads were or where to ride. It was wood and rubble and water ... I was scared then and thought, will the crying ever stop?"  

Arun's home, built on higher ground, was spared from the tsunami and having lost no members of his family, the 16-year- old felt compelled to help the less fortunate.  "I didn't have money, no one in Arugam Bay had money, and money helps," Arun explains. "But I had myself to give so I wanted to do that."  

It took three months just to clear the village, he says. He and other young locals braved the gruesome task of clearing the countless bloated bodies, and it would be nearly a month before NGOs and government help reached Arugam Bay. They also spent day after day laboriously removing debris as well as gathering and distributing food and water.  Arun and his friends were the heart of the operation. If there wasn't enough food to go around, they would go without to feed the elderly. If someone fell sick from malaria, typhoid, tuberculosis or from drinking tsunami water, Arun would carry them the four kilometres from one of the refugee camps to hospital. More than one person died in his arms.  

"I really wondered how anyone would get over it," he says.  But almost immediately after the clean up was finished, the rebuilding began and brick by brick, Arugam Bay has slowly been reborn from the wreckage.  

With the locals' brute determination and the help of NGOs, government and private investors, it has once again become a thriving fishing, surfing beach and a tourism village with improved local infrastructure such as schools and hospitals.  

For tourists, new roads mean a shorter trip from the capital, Colombo, and Arugam Bay now has hundreds more hotels, bungalows and guesthouses while still retaining its charm.  Tuk tuks loaded with surfboarders heading for nearby breaks zoom down the one main road as restaurants prepare fish curry fresh from the morning catch. 

Nature, too, has returned with new vivacity; tsunami lagoons have become watering holes for the wild Asian elephant population and along the beachfront swaying palms have burst skyward from the fine sand at a spectacular rate.  

Today, behind Arun, the sound of crying from the rubble has been replaced by joyful whoops as the locals play beach cricket, start sand fights and swim in the shallower waves. The sound causes his face to break into an endearingly broad grin, huge white teeth dwarfing his already small features, and it's clear he has managed to move on. Much like his town, the young man, who matured in a post-tsunami Arugam Bay, still bares the scars of the past, but is determined not to let it dictate his future.  

"I think it is better than ever for the locals here. It has everything now," says Arun, who hopes one day to own his own business.  And he's pleased to welcome more tourists to the town. "Yes, they taught me how to surf," he laughs.  

As the sun sets, it's now the palm trees' turn to stand in shadow as the evening session surfers catch waves into the pink-hued horizon. Come dusk, they are forced to surrender to the fading light, while the fishing boats will remain slumbering in the sand until the just before dawn.  

For the next few hours this fragment of the Indian Ocean will be empty, left to churn in the dark on its own.