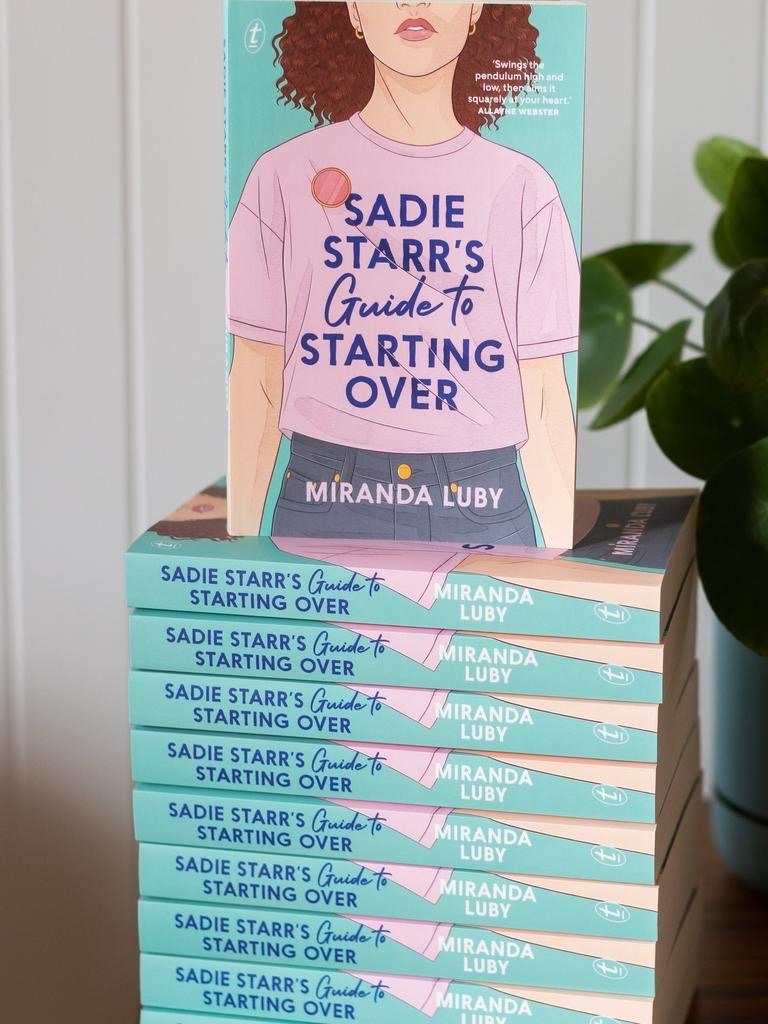 Sadie Starr is obsessed with starting over. A new year, a new diet, a new social media identity. Anything that gives her a chance to be a better version of herself.
So when her dad's job moves the family interstate, Sadie's excited for a fresh start. It's also the perfect excuse to leave behind the mess she's made with her best friend and secret crush Daniel.
But at her new school, life gets complicated fast.
She meets glamorous Alexa and her pink-badged girl gang, on a mission to 'support women', and outcast Jack, who the girls say has been stalking fellow student Loz.
But Loz has a different story, one that changes everything.
Sadie's torn. She wants to be popular. She wants to keep Loz's secret. She wants to fix everything. But she'll have to make choices. And the wrong ones could throw her perfect new life into complete chaos.

Sadie Starr's Guide to Starting Over was shortlisted for the Text Prize, awarded an Australian Society of Authors Award Mentorship and an ACT Writers Centre HARDCOPY fellowship.
Out now with Text Publishing.

Sadie is an incredibly relatable character…Powerful and engaging, Sadie Starr's Guide to Starting Over explores performative feminism, #MeToo, eating disorders, bullying, family dynamics and grief.  – Readings (YA book of the month, August 2022)
In Luby's hands, performative feminism, cancel-culture, loneliness, secrets, family dynamics, grief and bullying are deftly handled ... With its contemporary attitude and representation, endearing characters, dialogue that's ripe for the picking and great descriptions of Melbourne, I wouldn't be surprised to see this work optioned for the screen. – Kids' Book Review
A story that will resonate with teenagers who feel like they don't fit in or are struggling with issues they can't talk about. This beautiful and touching story teaches us so many things... Sadie Starr's Guide to Starting Over is heart-warming, sad, and happy, but most of all a really good read. – Glam Adelaide (five star review)
Swings the pendulum high and low, then aims it squarely at your heart. Sadie Starr is a collision of sass and vulnerability, assuredness and confusion, burning and imploding beliefs, and a convincing portrait of all the shades of grey between. Charming, honest, and so very now. – Allayne Webster
If you're looking for a moving story that will have you rooting for the characters, I highly recommend! I laughed, teared up a little, and found myself truly invested in these character's stories! This one will be a hit. – Trey, Goodreads
…critiquing cancel culture is a pretty big theme here. And it's done flawlessly. (This novel) is light and fun on the surface but at the core this is a very ambitious book with an extremely satisfying ending. I'm really hoping this book gets big!!! It really deserves to be. – Tamara, Goodreads
I genuinely believe that books like this can save lives by showing young people what these issues surrounding food look like so that they can recognise problems with themselves or their friends before serious damage is done. Kudos to Miranda Luby for shining light on a very common but less talked about (eating) disorder.  – Lorelei, Goodreads