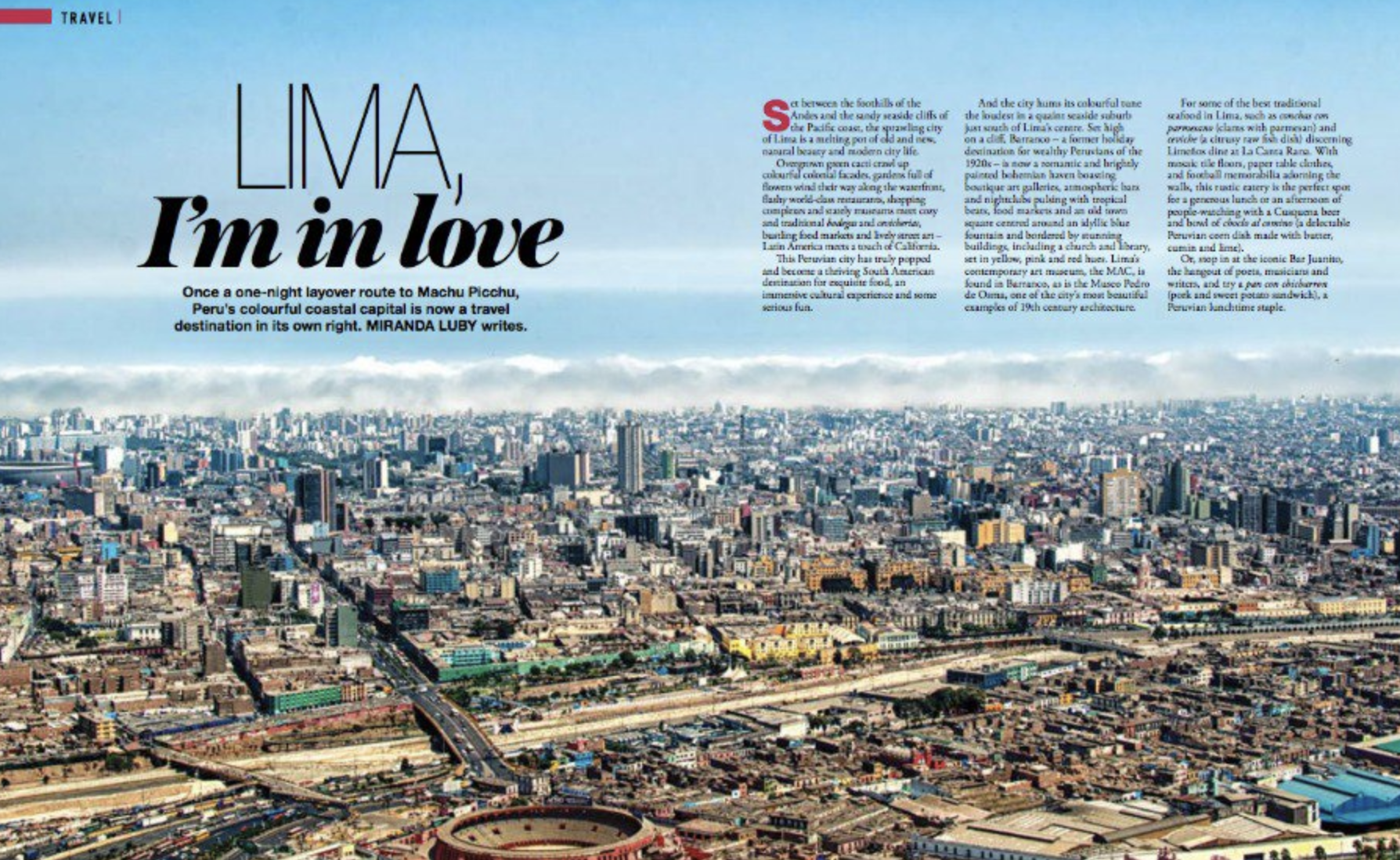 Once a one-night layover route to Machu Picchu, Peru's colourful coastal capital is now a travel destination in its own right. Miranda Luby writes.
Set between the foothills of the Andes and the sandy seaside cliffs of the Pacific coast, the sprawling city of Lima is a melting pot of old and new, natural beauty and modern city life.  Overgrown green cacti crawl up colourful colonial facades, gardens full of flowers wind their way along the waterfront, flashy world-class restaurants, shopping complexes and stately museums meet cozy and traditional bodegas and cevicherias, bustling food markets and lively street art — Latin America meets a touch of California. 
This Peruvian city has truly popped and become a thriving South American destination for exquisite food, an immersive cultural experience and some serious fun. And the city hums its colourful tune the loudest in a quaint seaside suburb just south of Lima's centre.
Set high on a cliff, Barranco — a former holiday destination for wealthy Peruvians of the 1920s — is now a romantic and brightly painted bohemian haven boasting boutique art galleries, atmospheric bars and nightclubs pulsing with tropical beats, food markets and an old town square centred around an idyllic blue fountain and bordered by stunning buildings, including a church and library, set in yellow, pink and red hues. Lima's contemporary art museum, the MAC, is found in Barranco, as is the Museo Pedro de Osma, one of the city's most beautiful examples of 19th century architecture. 
For some of the best traditional seafood in Lima, such as conchas con parmesano (clams with parmesan) and ceviche (a citrusy raw fish dish) discerning Limenos dine at La Canta Rana. With mosaic tile floors, paper table clothes, and football memorabilia adorning the walls, this rustic eatery is the perfect spot for a generous lunch or an afternoon of people-watching with a Cusquena beer and bowl of choclo al comino (a delectable Peruvian corn dish made with butter, cumin and lime). Or, stop in at the iconic Bar Juanito, the hangout of poets, musicians and writers, and try a pan con chicharron (pork and sweet potato sandwich), a Peruvian lunchtime staple. 
And while it's true that Peruvian cuisine has always been best known for its humble, inexpensive ingredients and rustic style influenced by Spanish culinary traditions (guy, or guinea pig is one of the country's most famous dishes not to be missed. Eat it accompanied by chica, a vivid purple drink made from maize). 
A recent gastronomic revolution has seen some of the world's best restaurants pop up in Lima, making it a globally recognised foodie destination. Central and Astrid & Gaston are just two that feature the seemingly endless variety of native ingredients sourced from the country's diverse agricultural landscapes, including produce from the mountainous ranges 4,200 metres above sea level. 
North of Barranco, in Miraflores, is the city's trendy and upscale shopping district, with a series of handsomely manicured gardens lined with pathways and park benches, enormous cacti, flower beds and palm trees. Hundreds of people wander, bike ride or jog along the clifftop, soaking in the views of the distinctive coastline, spying on the surfers below and gaping at the parasailing above. You can walk as far as Parque del Amor (Love Park), where artfully decorated mosaics quote poetry to wandering couples, or detour down to La Rosa Nautica, a fine-dining restaurant on the pier, for a traditional Pisco Sour. This citrusy but sweet and dangerously delicious South American cocktail made with brown bitters and blended egg white is a Peruvian favourite. 
From the seaside you'll look up to see Larcomar, an attractive shopping complex built into the side of the cliff. It has breathtaking ocean views from its many restaurants and features the fashion boutiques of Peruvian designers selling alpaca wool clothing. 
While many see Lima as a city stopover on the way to the historical ruins of Machu Picchu, you don't have to leave the city to begin your exploration of Peru's historic sites. In Miraflores you can wander away from the seaside to visit the impressive Huaca Pucllana, a large adobebrick pyramid built sometime between 300 and 700 AD. 
By night, see something truly modern at Parque de la Reserva, which hosts a water fountain exhibit called Circuito Magico del Agua (The Magic Water Circuit). Having been compared to the Bellagio fountains in Las Vegas, the 13 water fountains put on a show that combines music, coloured lights, and laser effects. Prepare to get wet in interactive fountains such as the Tunnel of Surprises. 
After hours, for those who love a Latino beat, indie musicians converge at La Noche de Barranco, a bar and cultural space with live shows, while a few blocks away, cozy El Dragón features funk, Latin jazz and electronic music, and also hosts exhibitions by up-and-coming artists. 
In a city that blends new and old so effortlessly, it's a pleasure to get lost in Lima's maze of modern streets and hip bohemian hangouts. It's no wonder the Peruvian capital has become the new place to be.