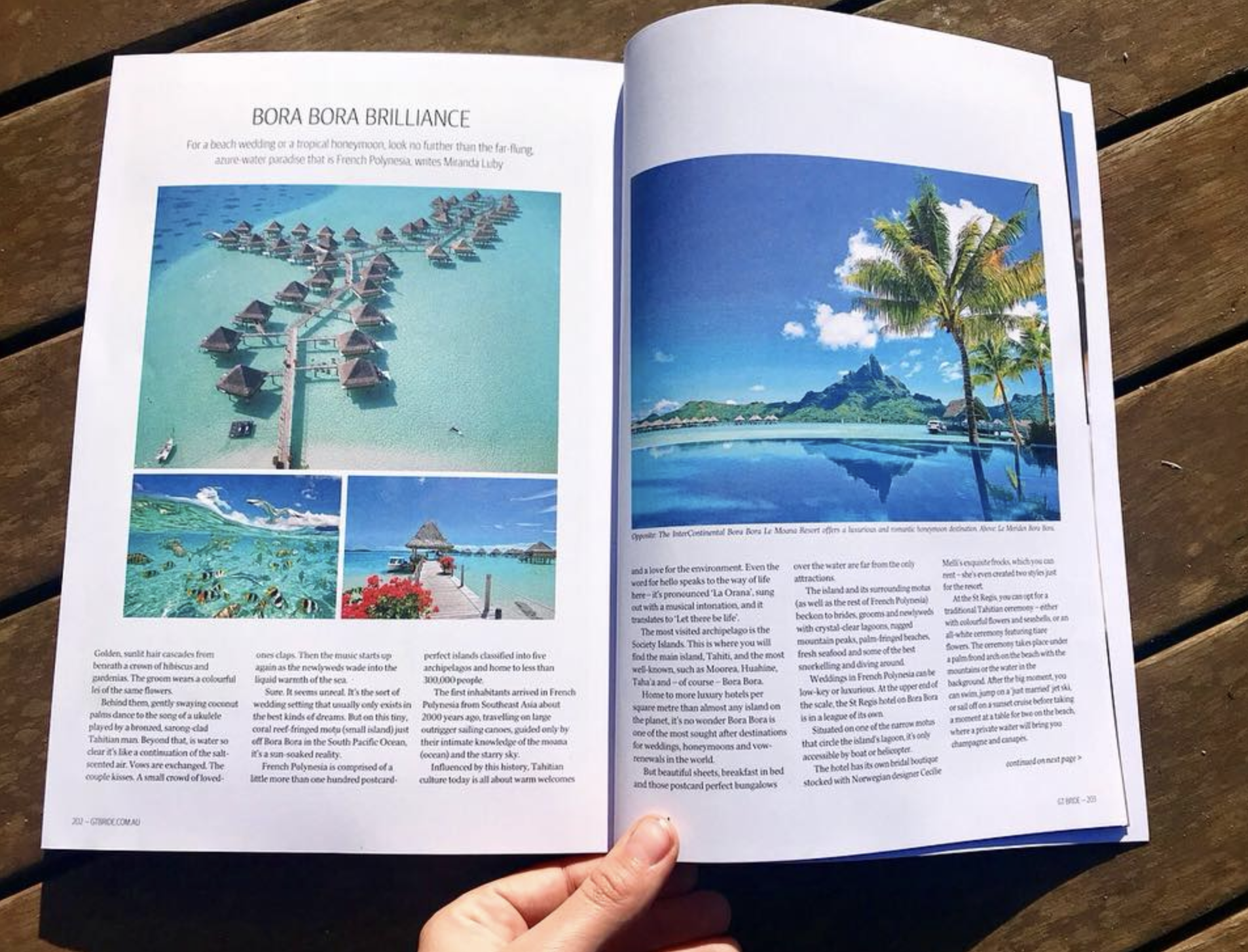 For a beach wedding or a tropical honeymoon, look no further than the far-flung, azure-water paradise that is French Polynesia
The bride is barefoot, standing in sand almost as white as her dress. Golden, sun-lit hair cascades from beneath a crown of hibiscus and gardenias. The groom wears a colourful lay of the same flowers. Behind them, gently swaying coconut palms dance to the song of a ukulele played by a bronzed, sarong-clad Tahitian man. Beyond that, water so clear it's like a continuation of the salt-scented air. Vows are exchanged. The couple kisses. A small crowd of loved-ones claps. Then the music starts up again as the newlyweds wade into the liquid warmth of the sea.

Sure. It seems unreal. It's the sort of wedding setting that usually only exists in the best kinds of dreams. But on this tiny, coral reef-fringed motu (small island) just off Bora Bora in the South Pacific Ocean, it's a sun-soaked reality.
French Polynesia is comprised of a little more than one hundred postcard-perfect islands classified into five archipelagos and home to less than 300,000 people. The first inhabitants arrived in French Polynesia from Southeast Asia about 2,000 years ago, traveling on large outrigger sailing canoes, guided only by their intimate knowledge of the moana (ocean) and the starry sky. Influenced by this history, Tahitian culture today is all about warm welcomes and a love for the environment. Even the word for hello speaks to the way of life here — it's pronounced 'La Orana', sung out with a musical intonation, and it translates to 'Let there be life.' The most visited archipelago is the Society Islands. This is where you will find the main island, Tahiti, and the most well-known, such as Moorea, Huahine, Taha'a and – of course – Bora Bora.
Home to more luxury hotels per square meter than almost any island on the planet, it's no wonder Bora Bora is one of the most sought after destinations for weddings, honeymoons and vow-renewals in the world. But beautiful sheets, breakfast in bed and those postcard perfect bungalows over the water are far from the only attractions. The island and its surrounding motus (as well as the rest of French Polynesia) beckon to brides, grooms and newlyweds with crystal-clear lagoons, rugged mountain peaks, palm-fringed beaches, fresh seafood and some of the best snorkeling and diving around.  

Weddings in French Polynesia can be low-key or luxurious. At the upper end of the scale, the St Regis hotel on Bora Bora is in a league of its own. Situated on one of the narrow motus that circle the island's lagoon, it's only accessible by boat or helicopter. The hotel has its own bridal boutique stocked with Norwegian designer Cecilie Melli's exquisite frocks, which you can rent – she's even created two styles just for the resort.
At the St Regis, you can opt for a traditional Tahitian ceremony – either with colorful flowers and seashells, or an all-white ceremony featuring tiare flowers. The ceremony takes place under a palm frond arch on the beach with the mountains or the water in the background. After the big moment, you can swim, jump on a 'just married' jet ski, or sail off on a sunset cruise before taking a moment at a table for two on the beach, where a private waiter will bring you champagne and canapes.
Slightly more on the low-key side (but only slightly) is a wedding on the island of Taha'a. Just 10 minutes from Bora Bora by helicopter, Le Taha'a Island Resort & Spa is a Polynesia-style resort (think bamboo and wrap-around decks over the water) on an offshore islet dotted with vanilla plantations and hammocks beneath palm trees. Taha'a is beautiful enough, but for the actual ceremony most couples choose an even tinier island in the middle of the lagoon. Float to the location on your very own flower-lined outrigger canoe and be greeted by local musicians and dancers. The officiant will give you a Tahitian name, symbolizing your union, and you'll be wrapped in a tifafai (Tahitian quilt) to seal the ceremony.
If flying half the family to a smattering of islands in the middle of the Pacific Ocean with a suitcase full of bridesmaid's dresses in tow isn't an option, though, fear not. French Polynesia is also the perfect place for a honeymoon, just you and your new bride or groom.
On Moorea, the lush and mountainous island closest to Tahiti (a one-hour ferry or 15-minute flight), there's no shortage of stunning accommodation to laze about in, restaurants to indulge at, and water-related activities to keep you occupied as you start your new life with your fellow adventurer.
Snorkel with friendly stingrays, elegant black tip reef sharks (don't worry, they're harmless), and countless vibrantly-coloured fish at Pineapple Beach or take one of the diving tours out to deeper waters and come face to face with tiger and lemon sharks, manta rays, moray eels and barracudas (okay, they're slightly less harmless).
Dine at local-favourite lunchtime spot Snack Mahana, where the grilled mahi-mahi is served with vanilla butter and a French rosé and the view over the side of the deck rivals that in an aquarium. For dinner, head to Coco D'Isle. With your feet in the sand and an ice-cold local Hinano beer in hand, order the Tahitian specially Poisson Cru (raw tuna marinated in citrus juice and coconut milk) and skewers of grilled Opunohu Bay prawns.
Or, if you feel like little more than lying about in luxury, days punctuated by a casual snorkel and a Tahitian body scrub and massage, both the Hilton and the InterContinental on Moorea have got you covered. Both boast access to prime snorkelling beaches, lush garden, pools and spas – the InterContinental even has a turtle and dolphin sanctuary.
For barefoot Bora Bora brides and grooms or loved-up Moorean holiday makers, it's no doubt French Polynesia is the perfect destination for a luxurious wedding or honeymoon – just don't forget your snorkel.