← Back
Boldness and Budgerigars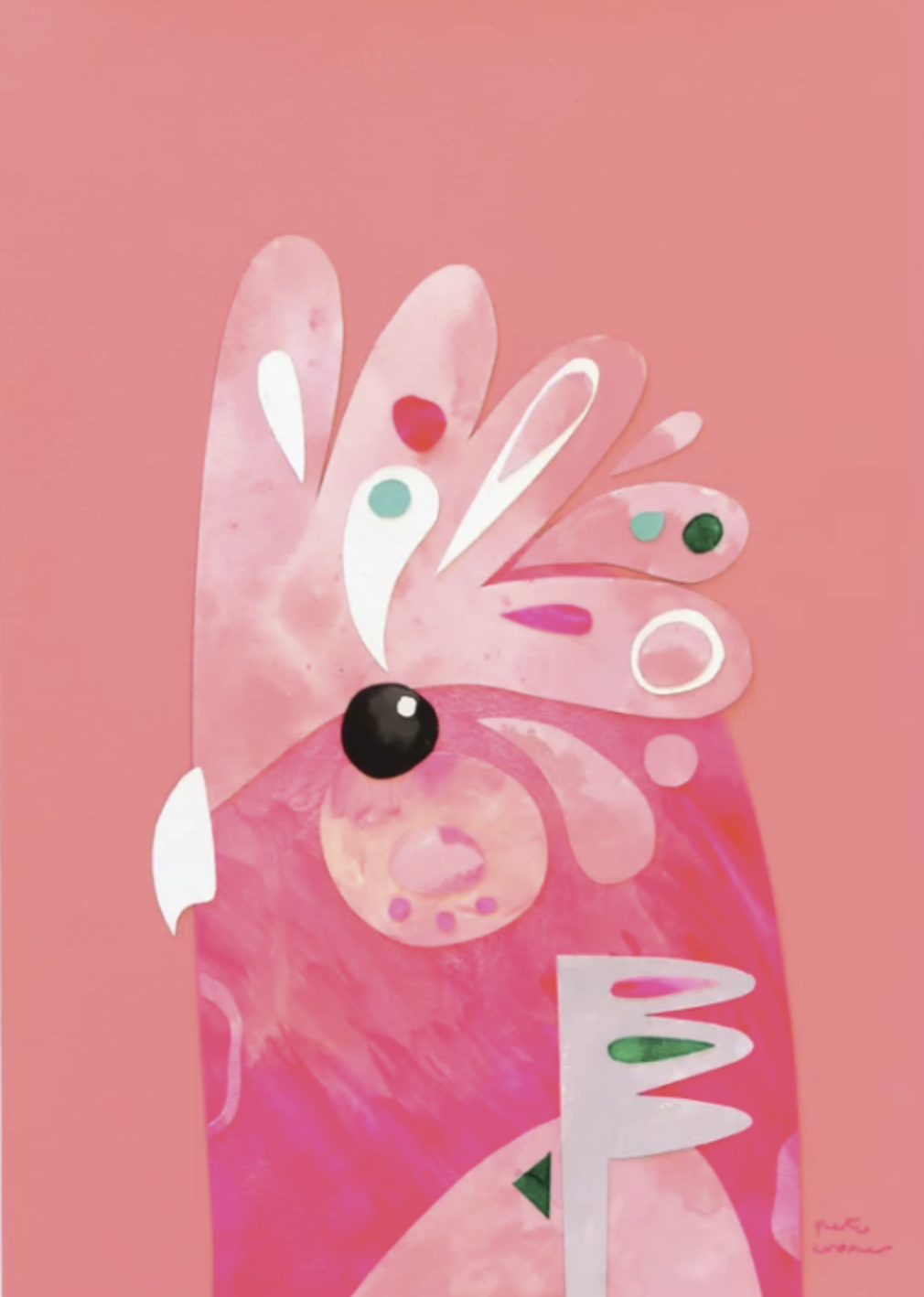 Colour, emotion and the sassiness of birds are all part of the inspiration for this Surf Coast artist's vibrant work, writes MIRANDA LUBY
Pete Cromer's Torquay studio is full of happy faces.

There's his, bright and wide like the very act of living excites him. There are his two pug dogs, bouncing enthusiastically around the creative space. There are the faces of the fifty or so small resin budgerigars lining the walls, having only recently burst forth from their moulds in a riot of colour. And then there are the Pokémon figurines lining the window sill.
"I've loved them forever," the 37-year-old artist and designer says, laughing and looking over at the toys affectionately. "I go to
the Pokémon tournaments and everything. I'll never grow up. And I'm not going to fight it. That's just who I am."
If it's youthful playfulness that makes Pete who he is, then the art he creates is a perfect representation of the artist. Bold, bright and exciting, Pete's collages, paintings and sculptures of animals and abstract creatures are enough to make to make you feel like a kid again – in the best possible way.
"Honestly, I just love colour and shape," he says after a moment of hesitation when asked to describe what he does. "I like conveying happy emotions and portraying personality. If someone feels warm and happy looking at my work, then I like that. I want it to be something that pinches your heart."
And perhaps it's this 'heart-pinching' happiness that people clearly feel when interacting with Pete's art that's lead to his enormous success. His collages, paintings and sculptures sell out almost faster than he can create them and are so well-loved they've been transformed into enamel pins, keychains and cards.
"It's completely mad," Pete's partner, Mark, says as he perches on Pete's work desk. Pete's creations are so in demand that Mark pitches in with everything from the artistic process to the logistical side of running a creative business. "See that shipping container there?" Mark points to the enormous green container sitting outside the Ashmore Arts studio. "It's full and everything in it is sold."  
While his platypuses, bilbies and sugar gliders are much-admired, Pete's birds are particularly popular. The sometimes-simple sometimes-intricate collages of rainbow bee-eaters, zebra finch and azure kingfishers have become somewhat of a signature.

"Birds are colour, shape and personality," Pete explains about his attraction to them. "I used to have a pet
cockatiel and it has so much sass! They just put a smile on my face."
But Pete's artistic career didn't start with birds. It started with blobs – at least, that's what he calls the works he first started creating when he quit his job in graphic design years ago to peruse his creative passion.
"My work was really abstract at first," Pete says, pointing to a collage on the wall behind him consisting purely of various shapes in bright colours. "I like simple forms and shapes. That's how the druids came about."
The druids are small, colourful, pebble-shaped sculptures with flat bottoms and tiny smiley faces. They conjure up feelings of children's books, cartoons and that pet rock you loved more than was probably normal. 
Since these more abstract creations, Pete's work has branched out in ways even he didn't expect. "I just go where my brain is leading me, even if I don't know where that is," he says, laughing.
Enemies YAY, his collaborative range of art and products with Geelong artist Laura Blythman, features cheeseburgers, cacti and popsicles. Most recently, Pete collaborated with clothing designer Karla Cola on the 'Feeling Cocky' fabric, a cockatoo-inspired print of burgundies and deep blues which comes to life on sundresses, shift dresses and headbands.
"Pattern design was a challenge but I always need a challenge," he says.
When it comes to inspiration for his creative projects, Pete says it often hits him like a lightning bolt.
"It can happen when I'm in the shower or driving," he says. "My brain's always firing off crazy things. When I think of something, it's like a niggle. It torments me."
Mark adds, nodding: "Once he's got something in his head he's got to get it out."
Even though the intensity with which Pete thinks and creates results in his much-loved work, it isn't always easy to manage day-to-day.
"I'll be working on 20 things at once and my brain's working on another 20 things," Pete explains. "Sometimes it's really hard. My brain is pulling me in so many different directions!"
But when he starts working on an idea, no matter how 'crazy' is seems at first, he says he listens to his gut. "When I don't, it all comes undone. I don't listen to other people and I try not to doubt myself."
Pete also doesn't let himself feel the fear of failing. "This kind of thing is a big experiment in trial and error. You just have to give things a crack. Failing is all part of it. I've done some horrible things to the budgies – mad scientist things. It's all part of the fun." He laughs. "But you do have to know when to drop something if it isn't working." 
When asked if he ever saw himself where he is today, Pete looks around his light-filled studio and shakes his head. "I mean, it's bonkers I get paid to do this. But people seem to love it. It makes me really happy."
As for the future, Pete says there are lots of fun things on the horizon. "I can't say anything about them yet but definitely keep your eyes on the website and social media." In keeping with his personality and his work, he can barely hold in his playful excitement.