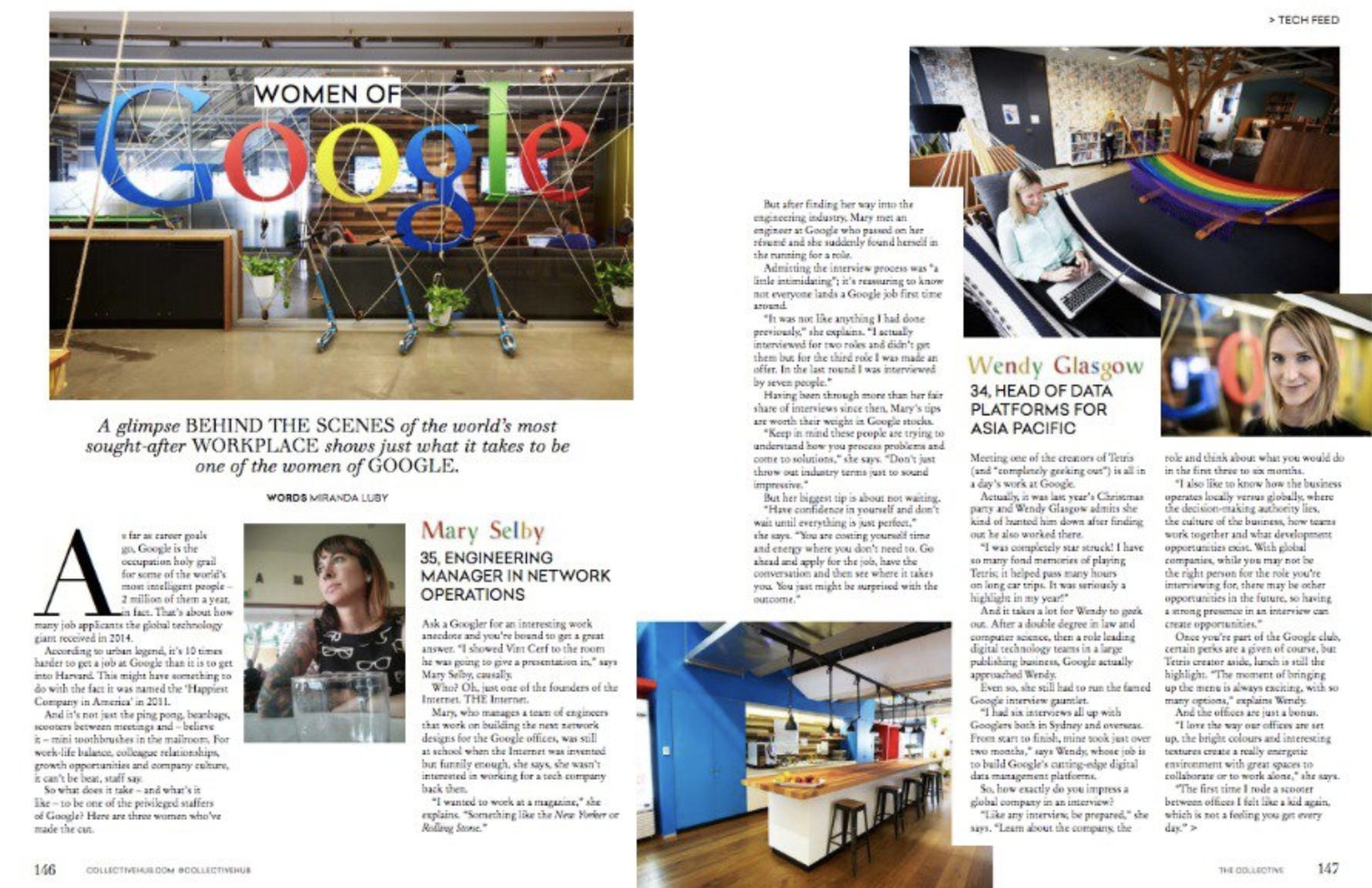 A glimpse behind the scenes of the world's most sought after workplace shows just what it takes to be one of the women of Google
As far as career goals go, Google is the occupation holy grail for some of the world's most intelligent people - two million of them a year, in fact. That's about how many job applicants this global technology giant received in 2014.
The urban legend goes that it's 10 times harder to get a job at Google than it is to get into Harvard. This might be something to do with the fact that it was named the 'Happiest Company America' in 2011 though careerbliss.com.
And it's not just the ping-pong, beanbags, scooters between meetings, and – believe it – mini toothbrushes in the mailroom. For work-life balance, work relationships, growth opportunities and company culture, it can't be beat, staff say.
It's no surprise, then, that this multi-billion dollar company has a reputation for having one of business' toughest application processes. So what does it take - and what's it like - to be one of the women of Google?
Here are three women who've made the cut.
Wendy Glasgow, 34, Head of Data Platforms for Asia Pacific
Meeting one of the creators of Tetris (and 'completely geeking out') is all in a day's work at Google. Actually, it was last year's Christmas party and Wendy Glasgow admits she kind of hunted him down after finding out he work there.
"I was completely star struck!" says the 34-year-old. "I have so many fond memories of playing Tetris; it helped pass many hours on long car trips. It was seriously a highlight in my year!"
And it takes a lot for Wendy to geek out. As the Head of Data Platforms for Google in all of Asia Pacific, she's the best kind of geeky herself. After a double degree in Law and Computer Science, then a role leading digital technology teams in a large publishing business, Google actually approached Wendy about her job. But she still had to run the famed Google interview gauntlet. 
"Getting a job at Google means having quite a few interviews," she explains. "I had six interviews all up with Googlers (people who work at Google) both in Sydney and overseas. From start to finish mine took just over two months."
So, how exactly do you impress a global company in an interview?   
"Like any interview, be prepared," she says. "Learn about the company, the role and think about what you would do in the first 3-6 months.
"I also like to know how the business operates locally versus globally, where the decision making authority lies, the culture of the business, how teams work together and what development opportunities exist. With global companies, while you may not be the right person for the role you're interviewing for there may be other opportunities in the future, so having a strong presence in an interview can create opportunities."
Once you're part of the Google club, certain perks are a given. Sometimes Wendy starts the day in a video call at home with her pyjamas on. Otherwise she's having breakfast in the Google café, laptop and phone in hand, eating from the company's renowned and delectable menus created by top chefs.  
"I do look forward to lunch every day, the moment of bringing up the menu is always exciting with so many options," Wendy explains. 
And the offices are a bonus. "I love the way our offices are set up, the bright colours and interesting textures create a really energetic environment with great spaces to collaborate or to work alone," explains Wendy, whose job is to build Google's cutting edge digital data management platforms. 
"Google has many teams that focus on making things easy, seamless and enjoyable for Googlers. These teams do an amazing job at looking after not only the big, but also the little things - like toothbrushes in the mail room!" 
"The first time I rode a scooter between offices I felt like a kid again, which is not a feeling you get every day."  
Despite working in a male dominated company, Wendy says she's never felt that gender is an issue. The tech-savvy female is part of a group called Women@Google where female Googlers self organise events and opportunities in the workplace. 
"I absolutely feel empowered," she says.
Edwina Mead, 27, Software Engineer
If anyone one knows what it takes to get a job at Google, it's Edwina Mead. The 27-year-old Software Engineer not only fought her way through the tough interview process – and succeeded - but she's now been on the interview panel for more than 50 hopeful Googlers herself.
"We're not that scary," Edwina laughs. She knows her company's reputation for putting their potential employees through the ringer.
Edwina landed her job after completing an internship at Google while in her final year of Electrical Engineering at university. The internship application processes alone consisted of several phone interviews and then a round of technical tests where Edwina would write code for the interviewers in a shared Google document. After the internship there was another round of in-person interviews before she was hired.
Edwina admits it's a tough process but that's no surprise given the rewards. Google recently sent her to work in the famed New York office for three months, all expenses paid. But Edwina says her favourite perk is probably the onsite massages.
"There's nothing like finishing up your week with a relaxing massage," she says, only half-joking.
So what's a normal day look like for a Software Engineer at Google?
"Most of my time is spent writing code," says Edwina, which is a very simplified and humble explanation of someone who helps build and maintain the internal software network for one of the world's biggest companies.  
So what about being a woman Google?
Edwina admits that she finds herself in the minority, particularly in software engineering, but loves the fact that the women bring a different perspective to the table and she feels like her voice is always heard. In fact, she helps run a Women in Engineering program that provides workshops and networking events for other female engineers at Google.
To wanna-be Googlers, Edwina's advice is simple: Go for it.
"I've lost count of the amount of times I've heard someone say something like, 'Oh, I couldn't work for Google, I'm not good enough!'" she says. "But don't be afraid to apply! The worst that can happen is you get some interviewing practice."

Mary Selby, 35, Engineering Manager in Network Operations

Ask a Googler for an interesting work anecdote and you're bound to get a great answer.
"I showed Vint Cerf to the room he was going to give a presentation in," says Mary Selby causally.
Who? Oh, just one of the founders of the Internet. THE Internet.
The 35-year-old Engineering Manager was still at school when the Internet was invented but funnily enough, she says, she wasn't interested in working for a tech company back then.
"I wanted to work at a magazine," she explains. "Something like the New Yorker or Rolling Stone."
But after finding her way into the engineering industry, Mary met an engineer at Google who passed on her resume and she found herself in the running for a role.
The interview process was 'a little intimidating'. "It was not like anything I had done previously," she explains. "I actually interviewed for two roles and didn't get them but for the third role I was made an offer. In the last round I was interviewed by seen people."
Have been through more than her fair share of interviews then, Mary's tips are worth their weight in Google stocks. "Keep in mind that these people are trying to understand how you process problems and come to solutions," she says. "Don't just throw out industry terms just to sound impressive."
She also says you don't have to be afraid to fail, even if you feel the stakes are high. "Be okay with the fact that sometimes failure will happen, and that you can try again."
But her biggest tip is about confidence.
"Have confidence in yourself and don't wait until everything is just perfect," she says. "You are costing yourself time and energy where you don't need to. Go ahead and apply for the job, have the conversation and then see where it takes you. You just might be surprised with the outcome."
Now Mary manages a team of engineers that work on building the next network designs for the Google offices.
She's inspired every day by being surrounded by people who love what they do.
"There are so many great people that are truly excited about the work they do," she explains. "It's the best part of my job."