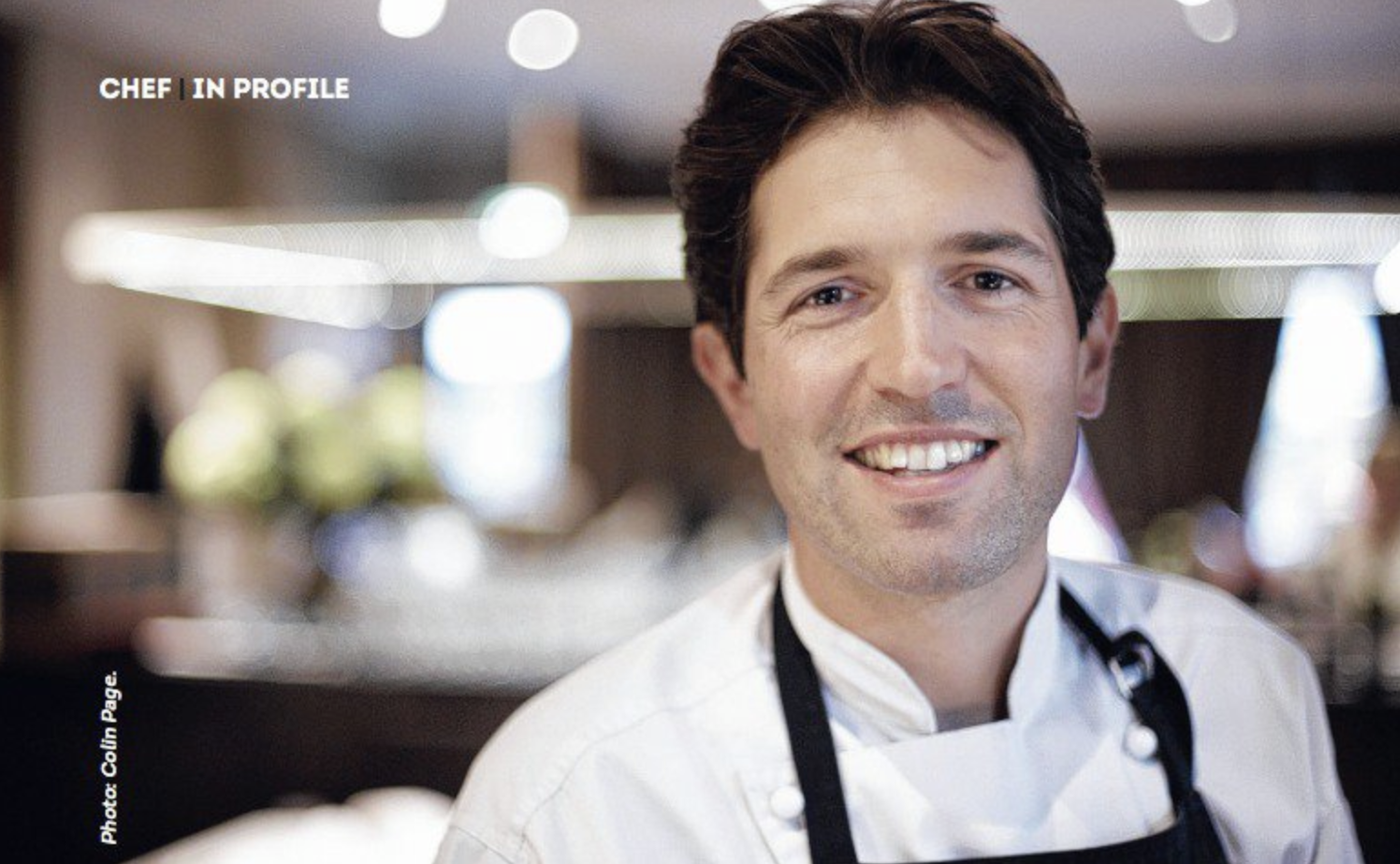 One of the world's top chefs has made Ocean Grove his home. Miranda Luby chats to Ben Shewry about his appetite for our region's produce
Ben Shewry's hunger for creating food perfection wakes him before dawn.  
He rises early in Ocean Grove, pulls on his gumboots, wades out and plunges his hands into the salty waters along the Bellarine Peninsula. He's on the hunt for beach seaweed and samphire and he won't quit until he's uncovered the most delectable samples to incorporate into his dishes.  
The onlooking morning surfers wouldn't know it, but Ben, 36, is the award-winning co-owner and head chef at Melbourne's Attica, recently named the world's 21st best restaurant. He has garnered praise worldwide for creating exquisitely detailed dishes from ingredients he sources or picks himself from around the Geelong region.  
Once he's filled his bucket with edible flora, he jumps in his car and yawns his way down the highway to Attica, where he'll cook for guests who've spent months on his restaurant's waiting list.  
For Ben, this is all in a day's work, but these morning forages for wild ingredients hint at his almost incomparable obsession with good quality food, a trait that he credits to his unusual upbringing.  
Ben grew up as the son of a sheep and cattle farmer in an isolated place on New Zealand's north island. It was so remote that there were only seven kids at the local primary school where his mother served as principal and sole teacher.  
"We didn't have a lot of money but we always had plenty of food and family spirit which made us feel rich," Ben says.  
"We always had cattle, sheep and pigs, we foraged for berries, for edible plants, we dived for a massive array of shellfish and my mother had a really big vegetable garden and provided all sorts of things."  
At just five years old, Ben decided to become a chef. He started writing letters to local restaurants begging for some experience and when one accepted him at age 10, it ignited a passion for food that's never been extinguished.  
"Food is everything," he says simply. "Food is my life.  
"Providing food for someone is one of the most meaningful things you can do."  
After a few years perfecting his skills in New Zealand restaurants, Ben moved to the busy streets of Melbourne and founded Attica. It wasn't long before the chef and his restaurant began gaining notoriety.  

But for the small town boy, the city and the growing attention began to become "overwhelming".  
"I don't like the idea of fame. I needed grounding," says Ben, who almost gave up cooking due to depression. "I began craving a simpler life and yearned to be by the ocean."  
So six years ago, the chef and avid surfer packed up and headed down the highway to the coast.  
"This was the best decision I've ever made," admits Ben, who lives in Ocean Grove with his wife Natalia and kids Kobe, 8, Ella, 6, and Ruby, 3.  
The move has inspired some of his most famous dishes, such as a creation with Portarlington's Sea Bounty mussels which he proclaims are the best in the world.  
"I know mussels and these are simply the best ones I've ever tasted," says Ben, who has developed a close relationship with the farmer, Lance. "I'll never take them off the menu."  
The dish itself includes a half mussel shell painted with Lance's portrait, which displays a different expression depending on the success of the season. It's served with sea succulent, hand- picked from the Bellarine Peninsula.  
Since moving to the Geelong region, the chef has developed a reputation for serving up unique dishes that have a connection to the ingredients' origins, such as potato cooked in the earth in which it was grown.  
"This is my attempt to bring food back to its rawest form and reconnect with nature," says Ben, who admits to being a stickler for sustainability. 
Emotion also plays a big part in his dishes.  "Sea Tastes" was created from the memory of almost drowning one day when foraging for abalone, mussels and sea urchins on New Zealand's dangerous, black-sand Taranaki coastline with his father and being washed off shore.  
"It's emo food," Ben half jokes about his dishes. "It's about emotion and childhood."  
In April this year, Attica stormed into the prestigious San Pellegrino World's 50 Best Restaurants list for the first time, winning the award for highest new entry. Ben puts the ranking down to hard work.  
"My fingers have literally bled for it," he says.  
Having such a high regard for food can be overwhelming for Ben, who's been known to spend weeks and months developing a dish before deciding it won't work and forcing himself to move on.  
But despite being a perfectionist when it comes to creating the elaborate dishes in his restaurant, Ben is more relaxed when it comes to food away from work. His favourite places to eat in the region include Chan Wei, an inner-city Chinese take-away, the Piping Hot Chicken Shop and Rolling Pin Pie Shop in Ocean Grove, and Ryrie Street's Roam Café.  
"I find I like to eat simple food when I'm not working," he says. "An enjoyable meal for me can be very cheap, as long as it's good quality and made with love."  
Ben also makes sure he always finds the time to cook for his family. 
 "The sad reality is that a lot of chefs spend all day making food for the pleasure of hundreds of strangers, then are too tired to give the same love to their family, he says. "It's very important for me to cook for my wife and kids because they deserve that from me."  
As Ben continues to make his mark on the culinary world, he's thrilled to be shining a light on produce from the Geelong region.  
"This place has blown me away with the quality of food and I love showing people outside of Geelong what it has to offer," Ben says. "I can't see myself ever leaving."