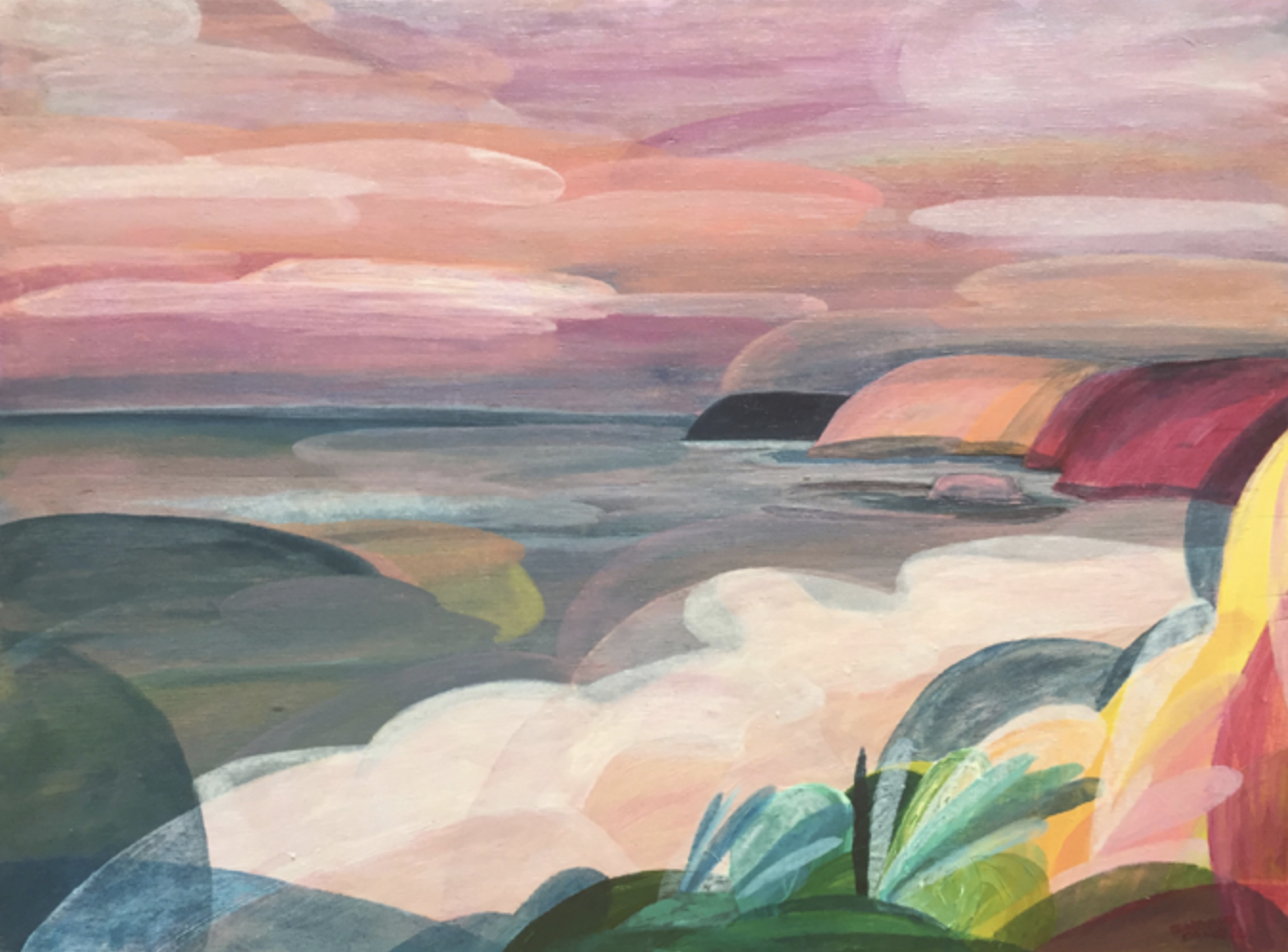 At its best, art helps us see our world through new eyes. This is a concept that comes to mind when viewing Ingrid Daniell's work.
Inspired by folk art and imbued with a strong sense of nostalgia, the Surf Coast artist's striking pieces paint our familiar landscape in a different light – one that she hopes illuminates her deep passion for the environment and helps others connect with it, too.
"You might call me a little idealistic," Ingrid says with a laugh while sipping peppermint tea in her Jan Juc home, dressed in a colorful top that's a work of art in itself. "But I think these kinds of raw and remote landscapes help us think about what the world could or should be. They give us a sense of space and place that opens us up to ourselves and these thoughts. If people gained some kind of respect for the environment or feel joy from the spaces I paint then I'm very happy."
Growing up in Melbourne's Eastern Suburbs, Ingrid was surrounded by creativity. Both her grandmother and father were musicians and her mother was an artist outside of her work hours as a nurse.
"I had a very creative upbringing," Ingrid says. "Mum was always taking me to galleries and the theatre and the house was full of music."
It's an upbringing that has clearly translated into her family home today, which she shares with her husband Cliff and two 14-year-old sons. Musical instruments are dotted around the spacious, light-filled house while Ingrid's own artwork can be seen through the open door of her paint-splattered studio.
"We're definitely an artistic family," she says with a warm smile.
Having studied textiles and fashion design majoring in costume design, Ingrid never imagined herself as a full-time artist. She spent her early career designing for a skateboarding label and then, when she and Cliff moved to the coast 20 years ago, for Quiksilver's Roxy brand.
It wasn't until she had her sons that Ingrid started pursuing a personal creative project in the form of a homewares brand called Cocoon Couture, which combined her love of vintage fabrics and painting to create unique beanbags with a folk art feel.
"Even with this business, though," Ingrid explains, "I felt I was on the computer too much during the design process and I wasn't being as creative as I wanted to be. And as much as I like textiles, I don't really like sewing."
So, six years ago, Ingrid moved on from that business and started painting on canvas in order to reconnect with that lost creativity. For her, the coast as a subject was the natural choice.
"Landscape has been a constant muse in my life," she says. "It gives me a sense of place and space that helps me center myself. Down here we're so lucky. We're not short of amazing beaches and landscapes to inspire us."
While the land is her subject, her themes include space, time, memory, shadow, light and belonging.
"I also like to think I'm sort of speaking for the landscape a bit," she explains about the meaning behind her art. "While it's quite abstract, I want it to talk about the impact we're having as humans on this earth. Overall, though, I think it's very optimistic work."
Ingrid uses layers of acrylic to create her pieces, often starting with a sketch inspired by one of the many photos of landscape lining her studio walls - at a glance, you can find Wye River and South Side among the snaps, as well as images of sandstone cliffs, black reef and weathered driftwood.
"I like the push and pull feeling, the texture of acrylic paint," Ingrid explains about her process. Then, adding with a laugh: "Being a busy mum, I also like that it dries in such a short space of time. I like that I can get it done more quickly."
Quickly, though, for one of Ingrid's paintings is still about two weeks. It takes time to create the multi-layered effect in her work, smoothing the primarily rounded shapes into an accurate representation of the image in her mind. Sometimes, she even rubs the acrylic back with a cloth to create a more translucent effect. This hints at the way the landscape is shaped by weather and time.
"I'm a bit messy sometimes," Ingrid half-jokes. "I mix as I go. There are always a few colours on the brush. It's a fairly organic process."
The bright pops of colour in Ingrid's work hint at her love of folk art.
"I think this comes from nostalgia for my childhood," she says of her signature style.
Since applying the paintbrush to canvas six years ago, Ingrid has had three solo shows at Boom Gallery in Geelong. As well as on her website, her work is stocked in Boom Gallery, Fenton & Fenton in Melbourne and in Curatorial+Co in Sydney. There is even a space in New York interested in her work. She also does regular commissions.
"I would never have imagined I would get to this point," Ingrid says of her success, shaking her head. "I thought I might sell one or two pieces and that's it. It's been a joy."
When asked about why she thinks her work has sold so well, Ingrid credits following her passion.
"I really believe that if you love what you do then that comes through your work and people can tell. They can relate to the honesty and passion."
But while the positive response to her art is wonderful, Ingrid is careful to point out that it's not all about sales.
"I don't think it's a sign that you're a good or bad artist if your work does or doesn't sell," she says. "I don't want to be a product. Expressing myself honestly is the most important thing to me."

Below is a video I directed, filmed and edited to complement this lifestyle feature on Surf Coast artist Ingrid Daniell. 
MUSIC CREDIT: We Don't Eat (acoustic version) by James Vincent McMorrow
To view in HD, hit play, select the 'gear' icon on the bottom right of the video and choose the highest quality. Buffering time will increase.